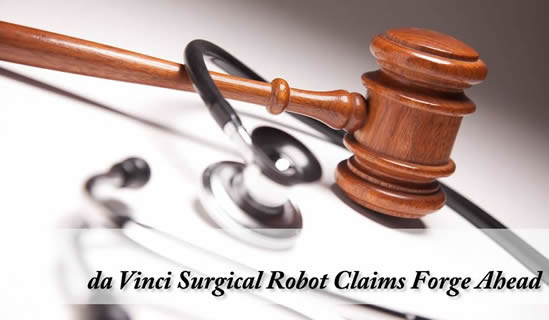 For several years, Audet & Partners, LLP has represented clients who suffered serious injuries after having undergone surgery in which the Da Vinci surgical robot was used.  Recently, the first Da Vinci lawsuits proceeded to trial.  In each case, the manufacturer, Intuitive Surgical, settled with the injured plaintiffs for what is believed to be multi-million dollar payments.
If you or a loved one had surgery involving the Da Vinci surgical robot prior to September 2012*, for any of the following procedures, you are urged to contact a Da Vinci Surgical Robot attorney at Audet & Partners, LLP for a free, confidential case evaluation:
• Hysterectomy
• Prostatectomy
• Thoracic Surgery
• Cardiovascular Surgery
Cases with the following specific injuries are especially likely to be compensable:
• Vascular Injury
• Vessel Injury
• Bowel Injury
• Bladder Injury
• Colon/Rectal Injury
• Leakage of Stool/Feces
• Sepsis
If the situation facing you or your loved one meet these criteria, you can contact Audet & Partners, LLP either by completing and submitting the confidential inquiry form on the right, or by giving us a call at (800) 965-1461.
* Intuitive Surgical modified the Da Vinci robot surgical system at this time to reduce or eliminate many of the dangers and harms previously existing.