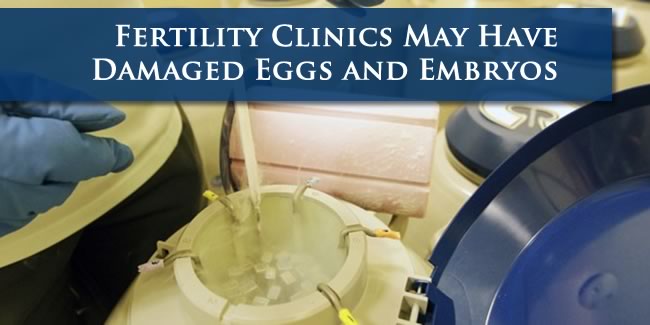 Audet & Partners, LLP is investigating claims as part of fertility clinic lawsuits brought against clinics located in Cleveland and San Francisco.  The claims allege that the clinics may have mishandled thousands of frozen eggs and embryos in a way that compromised their viability.  The Cleveland clinic in question is located at University Hospitals Ahuja Medical Center.  The San Francisco location is the Pacific Fertility Clinic.  Information recently surfaced suggesting that the temperature of the tissue storage banks, in which eggs and embryos are stored in liquid nitrogen, may have unexpectedly fluctuated and harmed or destroyed the eggs and/or embryos.
The situation is potentially traumatic to thousands of families and is complicated by the fact that the eggs and embryos must be completely thawed in order to determine whether they remain viable.  The problem in thawing, however, is that once thawed,  the eggs and embryos cannot be refrozen.
"You will never be responsible for any fees for our handling of your class action claim against the fertility clinic."
If you have been a patient with University Hospitals fertility clinic or Pacific Fertility Clinic, you are urged to contact Audet & Partners, LLP for a free, confidential case consultation to ensure that your rights are vigorously pursued in this situation.  We have handled complex class action litigation throughout the United States for more than twenty years, including claims against manufacturers of medical devices and hospital clinics resulting in significant recoveries for patients.  You can contact us either by completing and submitting the inquiry form on the right side of this page, or by giving us a call at (800) 965-1461.