Kona Coffee Lawsuit Alleges Mislabeling of Inferior Blends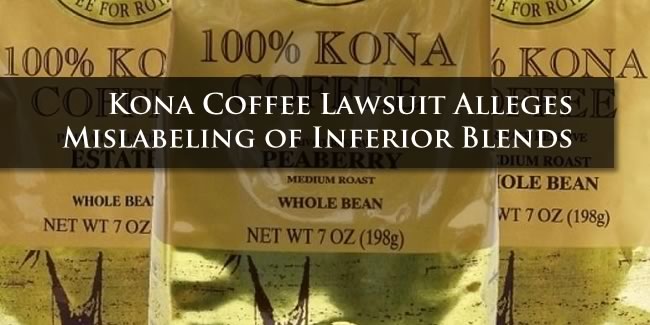 Audet & Partners, LLP is investigating claims as part of a Kona Coffee Lawsuit that coffee distributors, wholesalers and retailers have, for years, deceptively packaged and marketed inferior coffee blends as "Kona" coffee products.  In addition to duping unsuspecting consumers, the flooding of the market with essentially "counterfeit" Kona products has driven down prices and adversely impacted legitimate Kona coffee growers.
It has been alleged that although only 2.7 million pounds of authentic, green Kona coffee is grown on an annual basis, over 20 million pounds of coffee labeled as "Kona" is sold at retail.  Retailers who have been alleged to have sold mislabeled coffee products include Costco, Pier 1 Imports, Bed, Bath and Beyond, and Walmart, in addition to Safeway, Albertson's and other large supermarket chains.  Under federal law prohibiting false advertising, these retailer may potentially be held individually and jointly liable to economic injury suffered by legitimate Kona growers.
In addition, individual purchasers of Kona coffee may also have an action for monetary damages against these retailers based on false advertising of inferior blends as "Kona" coffee at a higher price than consumers would have otherwise been willing to pay.
If you are or have been a grower or harvester of Kona coffee, you may have a claim for economic damages resulting from the artificially depressed market for your Kona products.  If you have purchased Kona coffee, you may also have a class action claim based on the mislabeling of inferior coffee blends.  In either case, you can request a free, confidential case evaluation from one of our experienced class action attorneys either by completing and submitting the inquiry form on the right side of this page, or by giving us a call at (800) 965-1461.