Porsche Lawsuit Alleges Defective Cooling System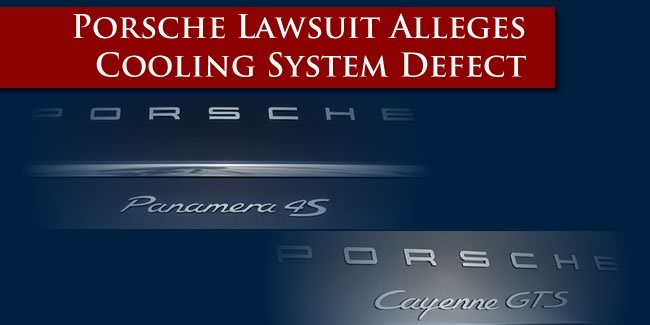 Audet & Partners, LLP is investigating claims as part of a Porsche lawsuit that the cooling systems of Porsche Panamera and Cayenne models were defectively designed in a way that may cause the vehicles to overheat and shut down.  The Porsche lawsuit specifically targets 2010 through 2016 Porsche Panameras and 2011 through 2019 Porsche Cayennes claiming that adhesive used by Porsche to secure the cooling system is prone to premature degrading, thus leaving cooling pipes susceptible to disengaging from the vehicles.
It is possible that the dislodgment of the cooling pipes poses a serious safety risk to owners as the vehicle engines may become suddenly flooded with coolant, causing the engines to overheat and seize, causing complete loss of power at any time and without warning, including while traveling at highway speeds.  Additionally, should a coolant pipe become dislodged, coolant may dump from the vehicle and onto the vehicle tires, causing a potentially hazardous situation for drivers.  Further investigation suggests that Porsche knew of the defective adhesive since at least 2007 through customer complaints, internal investigations, and National Highway Safety Administration records and complaints.
If you have purchased a 2010 through 2016 Porsche Panamera and/or a 2011 through 2019 Porsche Cayenne, you are urged to contact Audet & Partners, LLP for a free, confidential case evaluation to determine whether you may have a claim an a Porsche lawsuit.  You can contact us either by completing and submitting the inquiry form on the right side of this page, or by giving us a call at (800) 965-1461.