Audet & Partners, LLP Helps Plaintiff Recover $39.2 Million Against Monsanto
On August 10, 2018, after an eight-week trial in a San Francisco Superior Court,  jurors returned a verdict in favor of Dewayne "Lee" Johnson, a former groundskeeper whose job required the use of Roundup and Ranger Pro weed killers. The jury rejected Monsanto's arguments that years of 'science' refuted Mr. Johnson's claimed link between Roundup and his terminal cancer diagnosis.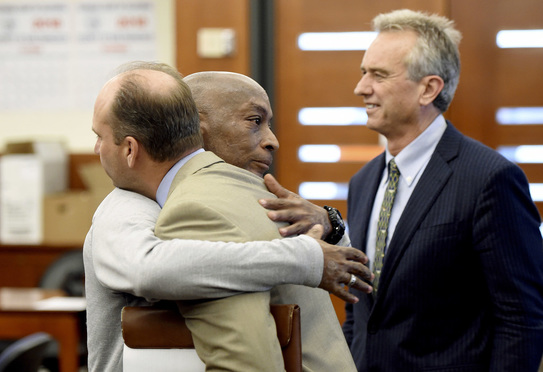 Audet & Partners, LLP served as local counsel for the Plaintiff and hosted the plaintiff's trial team during the almost two-month trial. (Case entitled: Johnson v. Monsanto Company, San Francisco Superior Court, case number: CGC016-550128).
The lawsuit claimed that exposure to the Roundup and Ranger Pro sprayed while working as a groundskeeper for the Benicia Unified School District resulted in Mr. Johnson contracting non-Hodgkin lymphoma ("NHL").   Mr. Johnson's doctors believe that Mr. Johnson has less than six months left to live as a result of the aggressive cancer.
The jury determined that Monsanto's herbicides were a substantial factor in causing injury to the plaintiff and caused Mr. Johnson to develop NHL, and that Monsanto failed to warn of this severe health hazard. Importantly, the jury also found that Monsanto acted with malice, oppression and/or fraud and should be punished for its conduct, resulting in punitive damages against Monsanto awarded to Mr. Johnson in the amount of $250 million.  The finding of malice, however, was reversed in an October 22, 2018 Order that reduced the damage award to $39.2 million.  You can click here to view a copy of this Order online.
Monsanto has yet to warn consumers of the potential dangers of its multibillion dollar herbicides despite the fact that, in 2016, the International Agency for Research on Cancer (IARC), a leading institute on the issues related to cancer, listed glyphosate as a probable carcinogen.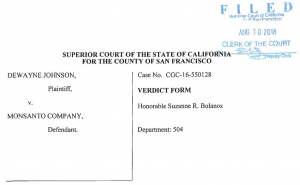 As the jury heard during the trial, Monsanto's own witnesses testified that company employees in fact "ghostwrote" scientific articles and compensated outside scientists to publish articles regarding Roundup under the scientists' names in order to mislead the public as to the carcinogenic properties of Roundup.  Other internal documents surfacing at trial demonstrated that a scientific advisor hired by Monsanto told the company that past testing was insufficient because glyphosate, the active ingredient in Roundup was tested in isolation without the other chemical ingredients that make up the product's formulation.
Mr. Johnson offered emotional testimony at trial: "I never would've sprayed that product on school grounds or around people if I knew it would cause them harm." As Mr. Johnson stated "It's unethical. It's wrong. People don't deserve that."  Mr. Audet's firm, Audet & Partners, LLP, intends, along with his co-counsel, to continue to hold Monsanto accountable to those who suffered an injury as a result of exposure to Roundup and Ranger Pro. "We can only hope that this verdict is a finally a wakeup call to Monsanto" noted Attorney William M. Audet.
If you have used Monsanto Roundup and have subsequently been diagnosed with non-Hodgkin lymphoma, you are urged to contact a toxic chemical class action lawyer at Audet & Partners, LLP for a free, confidential case evaluation.  To request a consultation, please complete and submit the inquiry form on the right side of this page.
Roundup Verdict Prompts Aggressive Tweetstorm by Monsanto
In the wake of the landmark verdict against Monsanto in which the jury accepted extensive scientific evidence tying Roundup pesticide to certain cancers including non-Hodgkin lymphoma, Monsanto Company has begun issuing social media posts touting the value and safety of dangerous pesticides.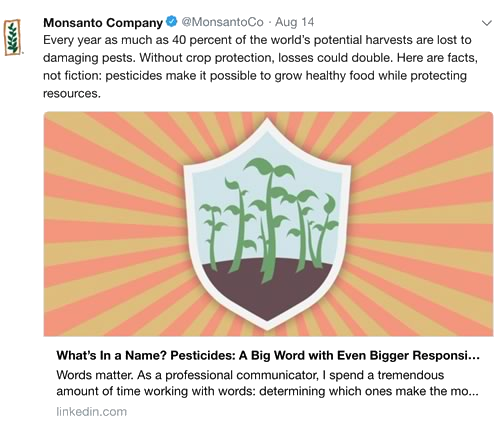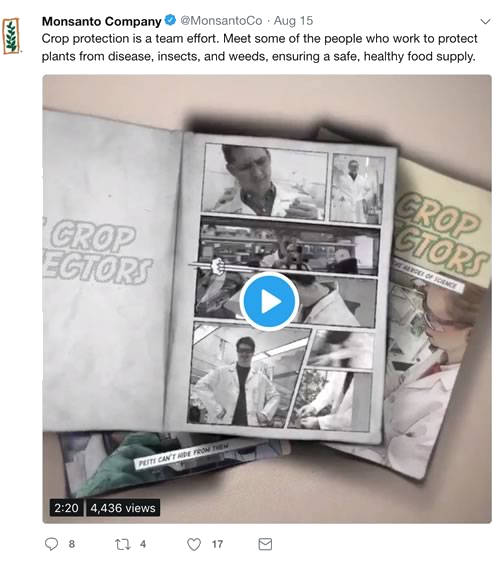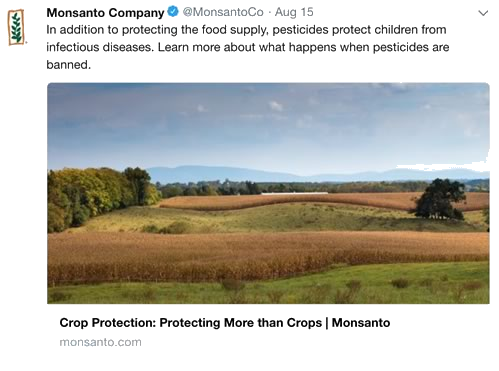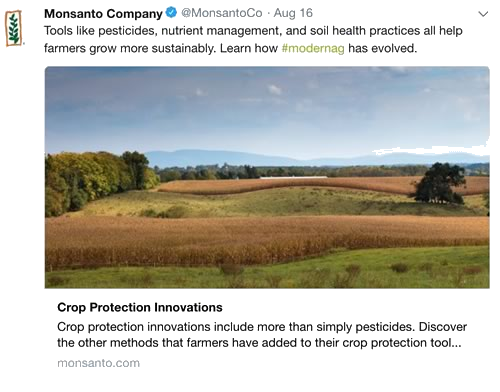 Going as far as to maintain that "the jury got it wrong" in its August 13th tweet, Monsanto has apparently embarked on a public relations campaign to discredit the Roundup verdict and bolster their planned appeal.  Audet & Partners, LLP, one of the three law firms that represented Dewayne Johnson in the Roundup lawsuit, completely stands by the jury and is confident that the verdict will be upheld on appeal.  In addition, Audet & Partners, LLP will continue representing other individuals who have been diagnosed with cancer after using roundup.
For a free Roundup case consultation, please complete and submit the confidential inquiry for on the right side of this page.
Press Inquiries
For press inquiries regarding the Monsanto Roundup trial or verdict, please click here to email William Audet and Mark Burton.
Join a class action. Call us:
800.965.1461