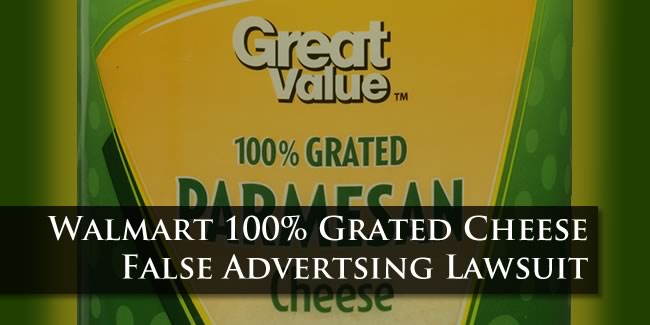 Audet & Partners, LLP is investigating false advertising allegations made against Walmart related to its "100% Grated Parmesan Cheese" sold under its "Great Value" product line.  Information has come to light suggesting that contrary to the product packaging, as well as Walmart promotional material, this product is not, in fact, 100% Parmesan, but rather are laced with significant amounts of non-cheese additives including an anti-clumping agent derived from wood pulp.
A recent article published in Bloomberg Business described a 2012 investigation undertaken by the U.S. Food and Drug Administration.  The FDA visited a cheese factory in Pennsylvania and first discovered that this manufacturer was doctoring its "100% real parmesan" with cut-rate substitutes and fillers including wood pulp.  This finding led to analysis of various other products, including grated parmesan cheese sold under many labels, that revealed a significant percentage of filler.
If you have purchased Walmart's Great Value "100% Grated Parmesan Cheese" product and are interested in becoming part of the Walmart Grated Cheese Lawsuit, we encourage you to get in touch with us at your earliest convenience.  You can request a free consultation either by completing and submitting the confidential inquiry form on the right side of this page, or by calling us at (800) 965-1461.