da Vinci Burn Warning Prompts Intensified FDA Review
On May 8, 2013, Intuitive Surgical, the manufacturer of the da Vinci surgical robot, issued an urgent medical device notification and also advised the Food and Drug Administration (FDA) of a problem with one of the surgical robot's instruments.*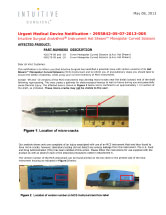 The document issued by the company warned that the Hot Shears™ Monopolar Curved Scissors may develop "micro-cracks," which "may create a pathway for electrosurgical energy to leak to tissue during use."* This leaked energy could potentially burn patients undergoing surgery.* Intuitive Surgical stressed, in bold print, that the micro-cracks in the scissors may not be visible to the user.*
The warning, which comes in the wake of several other da Vinci lawsuits, is of particular concern because of the wide range of procedures in which the scissors are used. The Hot Shears™ have been used to cut and coagulate tissue in common surgeries ranging from hysterectomies and prostatectomies to gastric bypass procedures.** There are at least 2,000 da Vinci robots in hospitals across the United States.**
The issue is currently under review at the Food and Drug Administration.** According to one FDA database, surgeons' reports of accidental burns, punctures, and other "mishaps" (sometimes involving death) associated with the da Vinci system increased 34% between 2011 and 2012.** Because of the surprising number of reported adverse events, the FDA has been polling surgeons about their experience with the robot.
Despite reporting the issue to the FDA and issuing an urgent warning, Intuitive Surgical has attempted to downplay the problem. The company maintains that it has "no confirmed evidence of patient injury attributable to this issue."** While denying that there was any energy leakage, the company does acknowledge that there was at least one instance in which a patient complained of injury following surgery with an instrument later found to contain micro-cracks.**
Even with a history of lawsuits, Intuitive Surgical has decided not to recall the surgical scissors. Instead, it has simply advised doctors that replacement shears will be available in two to four weeks.** Only time will tell whether further injuries caused by the Hot Shears™ will come to light. In the meantime, the surgical shears are still being used by healthcare facilities across the nation.
* May 8th Urgent Medical Device Notification by Intuitive Surgical, http://fm.cnbc.com/applications/cnbc.com/resources/editorialfiles/2013/05/10/UrgentDaVinci.pdf
** Crack-Prone Scissors May Burn Patients, Da Vinci Maker Says. Medscape. May 13, 2013, http://www.medscape.com/viewarticle/804067