Biotin Lawsuit Against Nature's Bounty Alleges False Advertising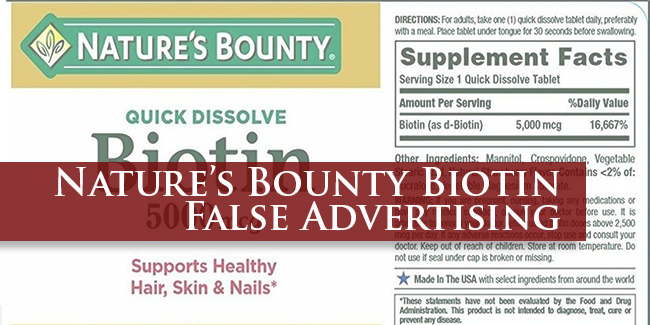 Audet & Partners, LLP Is investigating claims as part of a Biotin Lawsuit that Nature's Bounty has. for some time, been selling large quantities of biotin supplements under the ruse that these supplements facilitate growth of hair and nails and provide other health benefits.  In reality, the human body requires but a small amount of biotin on a daily basis, an amount that is in almost all cases derived from ordinary dietary intake.
The body's metabolic process manages biotin intake in such a way that any biotin ingested that exceeds bodily requirements is simply discarded.  In other words, "more is not better" when it comes to biotin intake.
Nature's Bounty has has extensively promoted purported "health benefits" of large quantities of biotin included in products such as Biotin 5000 mcg, SUPER POTENCY Biotin 5000 mcg, QUICK DISSOLVE Biotin 5000 mcg, Biotin 10,000 mcg rapid release soft gels, and Biotin 10,000 mcg HEALTH & BEAUTY rapid release liquid softgels.
If you have purchased a biotin supplement manufactured by Nature's Bounty based on promotion of  "health benefits" of large doses of biotin, you are urged to contact an attorney at Audet & Partners, LLP for a free, confidential case evaluation to determine whether you may have a false advertising claim as part of a biotin lawsuit.  You can contact us either by completing and submitting the intake form on the right side of this page or by giving us a call at (800) 965-1461.