FedEx ADA Lawsuit Investigations: Fostering Accessible Services | Audet & Partners, LLP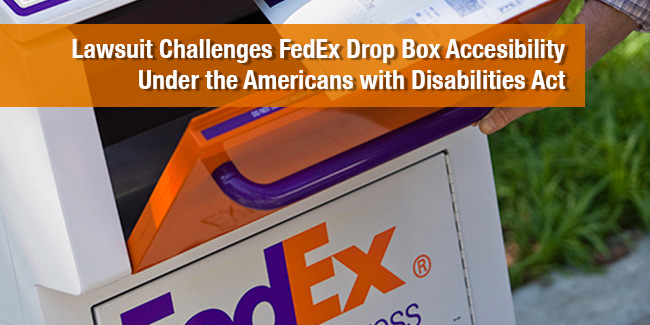 Audet & Partners, LLP has initiated a FedEx ADA class action in the United States District Court for the Western District of Tennessee on behalf of individuals alleging that the structure and placement of FedEx drop boxes renders them inaccessible for large numbers of consumers.  This Americans with Disabilities Act lawsuit has alleged that a significant number of the company's 30,000 unmanned drop boxes present accessibility barriers related to excessive reach ranges and "excessive force" required to successfully place items to be shipped in the drop boxes.  These compliance issues are traced to insufficient repair and maintenance procedures implemented by FedEx that are allegedly unable to ensure compliance with reach range and operable parts requirements under the ADA.
The FedEx ADA lawsuit seeks to amend FedEx practices and ensure future ADA compliance through immediate injunctive relief mandating ADA compliance, as well as future procedures that will ensure that these practices do not return in the future.  Lastly, the FedEX ADA lawsuit seeks a concrete plan articulated by FedEx to observe and monitor future practices to see that these accessibility issues do not return in the future.
At this time, the lawsuit is specifically seeking individuals who have been personally impacted by the failure of FedEx to ensure that its drop boxes are in compliance with the Americans with Disabilities Act.  If you are a have experienced problems placing packages within FedEx drop boxes due to suspected ADA violations, you are urged to immediately contact an attorney at Audet & Partners, LLP for a free, confidential case evaluation.  You can reach us either by completing and submitting the intake form on the rights side of this page, or by giving us a call at (800) 965-1461.