Flushmate Lawsuit Targets Exploding Toilets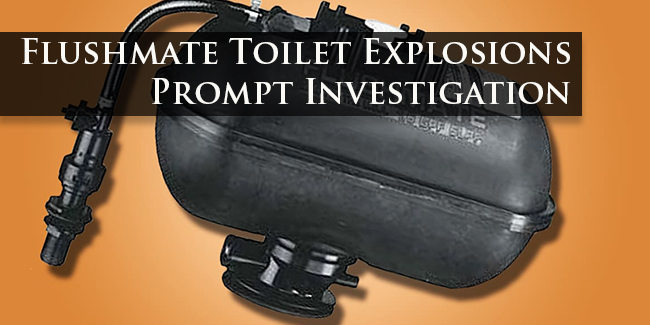 Audet & Partners, LLP is investigating claims by growing numbers of consumers as part of a Flushmate lawsuit that specific units are prone to explosion.  It is alleged that explosions of Flushmate II 501-B pressure-assisted flushing systems have exploded causing hundreds of thousands of dollars in property damage.  On October 18, 2018, the U.S. Consumer Product Safety Commission issued a recall of the Flushmate product due to "impact and laceration hazards."  The recall is estimated to effect almost 1.5 million units.
If you have purchased a Flushmate toilet and experienced an explosion that has caused property damage and/or personal injury, you are urged to contact a product liability attorney at Audet & Partners, LLP for a free, confidential case evaluation.  Audet & Partners, LLP has handled past class action lawsuits on behalf of Flushmate III purchasers when other models were recalled in 2012, 2014 and 2016.
To request a free case evaluation, please complete and submit the confidential questionnaire on the right side of this page, or give us a call at (800) 965-1461.