Luvena False Advertising Lawsuit Investigation
Audet & Partners, LLP is investigating claims against the California drug manufacturer, Laclede, Inc. ("Laclede") for personal and economic injuries to consumers arising out of the use and purchase of its line of prebiotic vaginal products. Laclede marketed, manufactured, and distributed the following Luvena products as part of its prebiotic vaginal product line:
• Luvena Prebiotic Vaginal Moisturizer and Lubricant
• Luvena Prebiotic Enhanced Personal Lubricant
• Luvena Prebiotic Feminine Wipes
• Luvena Prebiotic Daily Therapeutic Wash
The Luvena package label and accompanying package insert advertises the following claims:
• "Provides Anti-Yeast Proteins + Natural Antibacterial Enzymes"
• "Certified Natural & Restorative Probiotic"
• "Helps Prevent the causes of Vaginosis, Yeast Infection and Bad Odor"
• "HOW LUVENA WORKS: LPG Bio-Enzyme System (Lactoperoxidase, Lysozyme, Lactoferrin) to correct the natural vaginal flora by inhibiting harmful bacteria."
These claims were never substantiated by the U.S. Food and Drug Administration ("FDA"). On June 25, 2013, the U.S. Department of Justice, at the request of the FDA, initiated a lawsuit against Laclede for selling and marketing its unapproved and misbranded drugs across the United States. To review a copy of the FDA Complaint, please click here.
Records show that since 2010, the FDA has repeatedly warned the company that it must obtain an approved new drug application and FDA approval in order to sell its Luvena products. Despite these warnings, Laclede blatantly continued to manufacture, market, sell, and distribute these unapproved products.
Luvena False Advertising
Laclede advertises that using Luvena is recommended by physicians. It further claims that using Luvena restores "[l]ubrication and [b]alance" and provides non-irritating relief for vaginal dryness. Luvena products claim that the line:
"Restores, Relieves and Protects… Naturally!"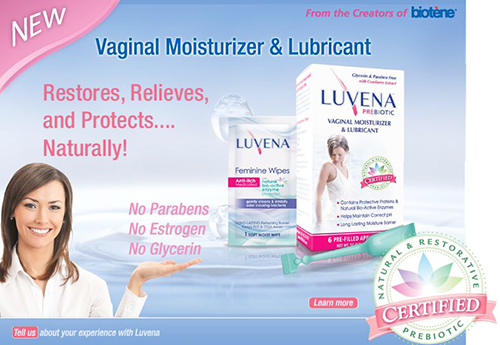 Luvena's label provides that:
• Luvena® Prebiotic contains:
• Glycogen, a prebiotic clinically proven to promote and cultivate beneficial bacteria and restore vital acidic pH
LPG Bio-Enzyme System (Lactoferrin, Lysozyme, Lactoperoxidase) to correct the natural flora by inhibiting harmful bacteria.
• Mannose, acts as a collector of harmful microorganisms to prevent them from binding to the vaginal wall and creating a harmful biofilm.
• All women can benefit from Luvena® preBiotic.  Its Advanced Enzyme Technology is carefully balanced with unique moisturizers that soothe and protect for several days.
• Preservative free
• Estrogen free
• Paraben free
• Glycerin free
The products also claim to be "Preservative Free with Cranberry Extract" and "Help[] maintain beneficial flora and correct PH, Provides anti-yeast proteins + natural antibacterial enzymes, Long lasting moisture barrier."
None of these claims have been verified by the FDA. Luvena products claim to be "Certified Natural & Restorative," but the products actually contain and fail to label active drug ingredients, such as Polyethylene glycol (PEG)-12 and polypropylene glycol. Both PEG-12 and polypropylene glycol are synthetic compounds, and Laclede misled consumers by claiming that its "prebiotic lubricant [was] designed to protect naturally while lubricating."
Additionally, Luvena's label claims that the products "promote freshness and healthy pH." Some studies have found that there is no statistical difference in pH levels between those who used a topical prebiotic treatment and those who did not. Luvena's label was and is misleading causing numerous consumers to purchase a product based on their deceptive claims.
Undisclosed Risks to Consumers
The labeling on Luvena products fails to disclose the risks of polypropylene glycol and PEG-12. Numerous consumers complain of an intense burning sensation, discomfort, and pain when using the Luvena products.
Further, Luvena claims,
Some people are sensitive to chemical preservatives and can experience irritation when they use products that contain them. With Luvena, you can enjoy moisture that's free of parabens and other chemicals that may irritate sensitive tissues like those of the vagina.
On February 14, 2014, the FDA issued a Warning Letter to Laclede alleging substandard testing of Luvena, as well as other concerns raised by inspection of the manufacturer's facilities.  To see, a copy of the Warning Letter, please click here.
The Material Safety Data Sheet states that skin damage can result from topical contact with polypropylene glycol. It also states that side effects of this common product include irritation and sensitivity to skin and mucous membranes. Some studies reveal that cells in contact underwent mutation. Products and formulas containing PEGs meanwhile are advised to be used topically on healthy skin, but not on broken or irritated skin. Luvena products claim to "restore moisture and offer soothing relief for symptoms associated with vaginal dryness." However, the labeling fails to state any potential side effects of drugs in the product or the possibility of irritation and pain.
Audet & Partners is currently investigating claims for personal injuries and misleading or deceptive claims in the marketing of these Luvena prebiotic vaginal products. If you purchased any Luvena prebiotic vaginal products since 2012, you are urged to contact a class action lawyer at Audet & Partners, LLP for a free case evaluation. You can contact us toll free at (800) 965-1461 or by completing and submitting the confidential online inquiry form on the right side of this page.