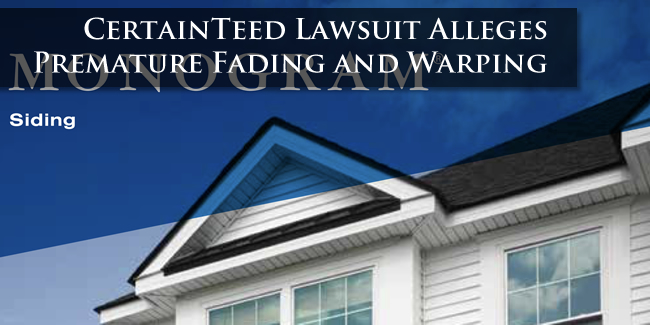 Audet & Partners, LLP is investigating claims by increasing numbers of Certainteed Siding customers in a Certainteed lawsuit investigation that siding manufactured and sold by the company was prone to premature fading and warping.  Customers have expressed numerous complaints, especially related to Certainteed Monogram vinyl siding, that the product fades and warps, especially when exposed to prolonged sunlight.  In addition, consumers are complaining that Certainteed has failed to adequately address these defects despite lifetime warranties.
Complaints have come to our attention that suggest that Certainteed is failing to meet its contractual and legal obligations to customers.  In addition to extensive complaints about the Certainteed Monogram siding, it appears that authorized representatives are providing affected customers with fairly standard, inadequate responses that wholly fail to address the extensive damages and frustrations experienced by adversely impacted homeowners.
If you have purchased Certainteed vinyl siding and have experienced problems including premature fading and warping, you are urged to contact a product liability attorney at Audet & Partners, LLP for. a free, confidential case evaluation.  You can contact us either by completing and submitting the inquiry form on the right side of this page, or by giving us a call at (800) 965-1461.