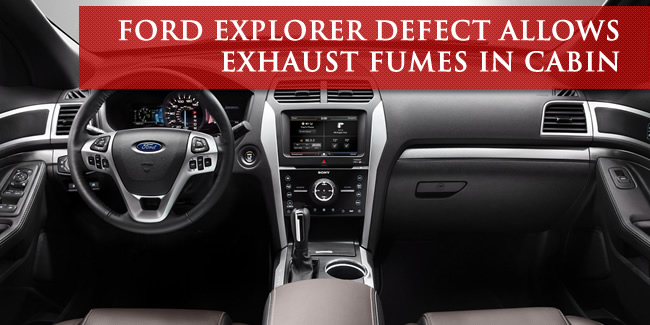 Audet & Partners, LLP is investigating claims on behalf Ford Explorer owners that the defective design of the vehicle allows dangerous levels of carbon monoxide exhaust fumes to enter the passenger compartments presenting a serious health hazard to vehicle occupants.
A history of complaints by Ford Explorer owners suggests that potentially hundreds of thousands of Ford Explorer models may have been defectively designed in ways that may allow lethal levels of carbon monoxide to enter passenger compartments.  Ford's Technical Service Bulletin 12-12-4, issued in December 2012 acknowledged that:
"[s]ome 2011-2013 Explorer vehicles may exhibit an exhaust odor in the vehicle with the auxiliary climate control system on.  Customers may indicate the odor smells like sulphur."
The Bulletin, however, was provided only to authorized Ford dealerships, and did not directly notify non-Ford repair shops about defects related to carbon monoxide danger.
If you own a 2011-2013 Ford Explorer and have smelled exhaust fumes in the passenger compartment, you are urged to contact a product defect attorney at Audet & Partners, LLP for a free case evaluation.  Please complete and submit our online submission form on the right side of this page, or give us a call at (800) 965-1461.