Toyota Tacoma Lawsuit to Allege Transmission Defects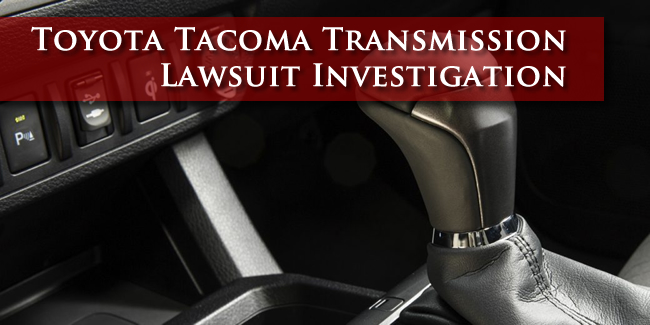 Audet & Partners, LLP is investigating claims from numerous owners as part of a potential Toyota Tacoma lawsuit that their vehicles are prone to transmission slippage.  In some cases, owners are complaining about this problem after less than five-thousand miles on their trucks.  Though Toyota attempted to address this issue via a software update in early 2016, it appears as though this attempt may have been unsuccessful for many owners of 2016 and 2017 Toyota Tacomas who continue to experience these problems.
Transmission-related complaints reported by 2016 and 2017 Toyota Tacoma owners have included problems such as:
* Delayed engagement Park to Drive or Reverse to Drive
* Harsh 1st-2nd upshift
* Delayed upshift when using when using Cruise Control
* Busy shift-like hunting gear behavior when driving on Highway speed/slight grade
* Engine flare during 3rd to 4th gear shift when in cold condition after several hours soak
If you have purchased a new 2016 or 2017 Toyota Tacoma and have experienced ongoing transmission problems, especially after receiving the 2016 software update from Toyota, you are urged to contact Audet & Partners, LLP for a free, confidential case evaluation with one of our product defect attorneys.  You can contact us either by completing and submitting the inquiry form on the right side of this page, or by giving is a call at (800) 965-1461.
Join a class action. Call us:
800.965.1461