Class Action Case Update – September 16, 2022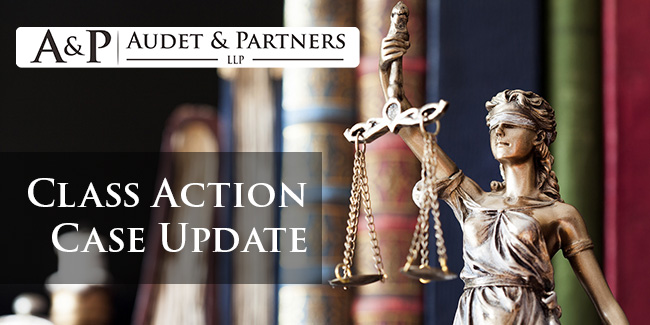 Class Action Case Update – September 14, 2022
Credit Karma to pay USD 3 million for luring consumers with deceptive promises of pre-approved financial products
Credit Karma is a credit monitoring service aimed at collecting and analyzing users' personal data to provide them with targeted advertisements, credit card recommendations, etc. Credit Karma has been accused of promoting financial products to its consumers by falsely informing them that they were either 'pre-approved' or that they had a '90% odds' of getting approved for said products. But, ultimately, a significant portion of such consumers did not qualify for said products.
The Federal Trade Commission alleged that Credit Karma aside from wasting customer time by pushing false 'pre-approved credit' offers and making them complete related applications, also impacted their credit scores and subjected them to unnecessary credit checks.
As a part of the settlement, Credit Karma has agreed to pay USD 3 million to the FTC, which will be given to affected consumers. Further, Credit Karma will also have to preserve records of its user monitoring practices and refrain from any further use of such deceptive tactics.
Credit Karma, however, has denied any wrongdoing and stated that it agreed to the settlement so as to maintain its focus on helping its members find the right financial products and to avoid any further disruption of its mission.
This settlement follows a large-scale FTC-initiated crackdown on the use of 'dark patterns' in online commerce. 'Dark patterns' is a broad term used to describe actions where companies create sites/features in a way that manipulates users into doing things that benefit the company.
Coppertone agrees to USD 2.3 million settlement in benzene contamination suit
Coppertone recently agreed to pay a settlement amount of USD 2.3 million to users who purchased some of their sunscreen products before August 2, 2022. In September 2021, Beiersdorf, the owner of Coppertone sunscreen recalled 12 of its sunscreen products on account of concerns that they contained a carcinogenic substance (i.e., benzene). The products recalled were as follows: (i) Pure & Simple SPF 50 (ii) Pure & Simple Kids SPF 50 (iii) Pure & Simple Baby SPF 50 (iv) Sport Mineral SPF 50 (v) Sport SPF 50 (vi) Sport SPF 30 (vii) Sport SPF 15 (viii) Complete SPF 50 (ix) Complete SPF 30 (x) Glow Shimmer SPF 50 (xi) Glow Shimmer SPF 30 and (xii) Kids SPF 50.
Thereafter, consumers of the recalled products sued both Beiersdorf and Bayer HealthCare (previous owner of the Coppertone brand). They accused Coppertone of deceptively selling their products as healthy and safe while knowing that they contained (or were at the risk of containing) benzene.
Without admitting any wrongdoing on their part, Bayer HealthCare and Beiersdorf have agreed to settle the suit whereby users with proof of purchase are eligible for a full refund of the total amount spent by them on the recalled products. Further, persons without proof of purchase are eligible for a refund for the average retail price for up to 6 products per household. However, the amounts payable will be reduced proportionately, if consumers have participated in Coppertone's voluntary recall program. The claim form for the settlement can be accessed here.
Further, as a part of the settlement, Coppertone also has to undertake benzene testing for its products (for at least 18 months) and appropriately address the situation if benzene is detected.
Juul to shell out USD 438 million as a part of a multi-state investigation into its marketing practices
A 2-year long multi-state investigation into e-cigarette maker Juul's marketing and sales practices found that Juul had deliberately lured young consumers by giving out free samples, implementing easy-to-bypass age-verification systems, introducing flavors like mango and crème brûlée, making a sleek device which was easy to conceal, etc.
Furthermore, Juul was also found to have issued misleading advertisements by failing to clearly disclose that their products contained nicotine and by marketing their products as smoking cessation devices without obtaining the FDA approval required for making such claims.
To settle the issue with 34 states, Juul has agreed to shell out USD 438 million. The settlement is to be paid out over 6 to 10 years and additional amounts will be payable if Juul takes a longer time to make the payment. As a part of the massive settlement, Juul has also agreed to certain other conditions e.g., restriction on marketing to persons below 35 years, appropriate age-verification requirements on all sales, etc.
On its part, Juul has stated the terms of the settlement are aligned with the company's current business practices. Further, as a part of the massive settlement, Juul has also agreed to certain other conditions e.g., restriction on marketing to persons below 35 years, appropriate age-verification requirements on all sales, etc.
Interestingly, the FDA had in June this year, banned Juul products in the US given the lack of proof regarding their overall safety. However, Juul obtained a temporary stay on the order. Further, FDA, too, has stayed the ban citing the need for additional review of scientific issues involved therein. As such, Juul continues to sell its products in the US.