Received an Unsolicited "Spam" Text Message? You Could Be Entitled to Damages
A recent national study suggests that nearly 75% of cell phone users that send and receive text messages have received unsolicited or "spam" text messages advertising or promoting products and/or services. Another study estimates that the number of unique commercial text messaging ad campaigns quadrupled in the first half of 2012, and that receipt of such messages increased 300% between 2011 and 2012.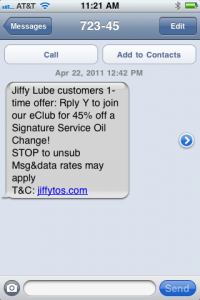 Consumers are protected from unsolicited commercial text messages by the Federal Act known as the Telephone Consumer Protection Act ("TCPA") enacted in 1991. The TCPA prohibits unsolicited text messages to personal cell phones unless the message is sent for emergency purposes or the recipient has given his or her express consent to receive such messages. The TCPA provides for statutory damages of up to $1,500.00 for each individual unsolicited commercial text message.
In November 2012, a Federal District Court in Washington State ruled that a class action lawsuit could move forward against Papa John's International, Inc. arising out of unsolicited commercial text massages sent on behalf of the pizza chain to customers throughout the United States. Certain Papa John's franchisees had contracted with a third-party marketing company, OnTime4U, to launch a text marketing campaign using information obtained by Papa John's at the point of sale with previous customers. As a result of these spam text messages, Papa John's may be held responsible for up to $250 million in statutory damages.
Several previous cases have imposed significant financial penalties on companies for sending unsolicited SMS messages to consumers. In 2008, a $7 million dollar settlement was reached with the Timberland Company and GSI Commerce, Inc., providing $150.00 cash payments to consumers nationwide who had received unsolicited spam text messages.
In 2010, a settlement was reached in California against Simon & Schuster publishing company which had contracted for a commercial text message campaign promoting the latest work from a popular novelist. Ultimately, the Ninth Circuit Court of Appeals reinstated the lawsuit against Simon & Schuster that could cost the company more than $90 million, awarding $175.00 to each class member filing a claim.
Most recently, in 2012, a settlement was reached against Heartland Automotive Services, the largest Jiffy Lube franchisee in America, that could reach $47 million for the unsolicited text message pictured to the right sent to more than 2.3 mobile phone numbers.
If you have received an unsolicited or "spam" text message, please contact a Spam Text Lawyer at Audet and Partners, LLP for a free consultation to learn more about your rights. You can request a free consultation by submitting our confidential inquiry form, or call 800-965-1461.