Class Action Case Update – November 25, 2022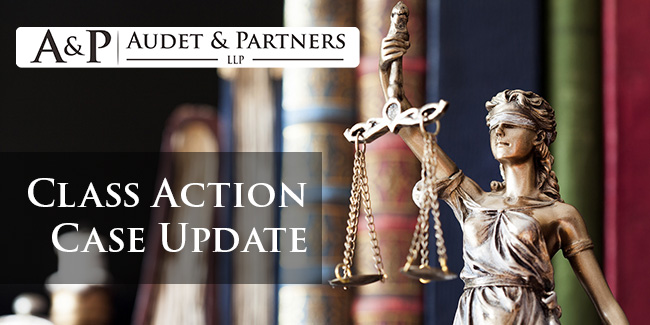 Class Action Case Update – November 25, 2022
Veterans accuse Citibank of non-compliance with servicemen-related lending requirements
A class of Military Veterans have filed suit against Citibank accusing it of violating laws in place to facilitate easy and cheap les nding to military members. The veterans have alleged that Citibank failed to comply with the Servicemembers Civil Relief Act, Military Lending Act, and Truth in Lending Act along with violating other contractual and fiduciary obligations.
Laws governing the extension of credit to servicemembers inter alia restrict the amount of interest chargeable to a servicemember, when incurred before he is called to active duty.
Interestingly the suit alleges that Citibank while giving the illusion of offering servicemembers benefits in excess of those available under law fails to pass on the statutorily mandated benefits by virtue of the drastic increase in the interest and fees it charges, once the servicemember finishes active duty.
Further, one of the plaintiff's has claimed that Citibank in addition to increasing his interest payable from 0% to 15.74%, failed to give clear notice of such a drastic increase in the post-deployment interest rate. The suit also accuses Citibank of withholding the extension of military benefits to servicemembers despite providing sufficient proof of eligibility.
Starbucks sued for misrepresenting contents of coffee powder
Starbucks is in the midst of a potential class action suit accusing it of issuing misleading advertisements about the contents of its coffee. The coffee under the lens is the French Roast Ground 100% Arabica Coffee. Despite the name, the suit claims that it includes potassium as an additive and therefore, misleadingly claims itself to be 100% coffee.
It should be noted that potassium is a common acidity regulator agent used for ensuring the coffee beans retain their flavor and aroma.
The plaintiffs argue that a product claiming to be 100% coffee should not contain potassium. Furthermore, the suit also alleges that the said coffee powder consists of higher-than-expected potassium levels which can also cause further health issues in coffee drinkers. As such, the suit has accused Starbucks' of being fraudulent and violative of consumer laws and in breach of implied and express warranties.
3M lawsuit update: 3M asked to defend its new stance claiming that its subsidiary is solely responsible for damages
Background:
3M and its subsidiary Aearo Technologies LLC are in the midst of a 2019 multidistrict litigation ("MDL") involving thousands of military veterans alleging 3M's Combat Arms earplugs (CAEv2) were defective and responsible for causing members hearing loss and tinnitus.
In July 2022, 3M's subsidiary Aearo filed for bankruptcy (which would automatically stay the suits against it) arguing that the bankruptcy proceedings would be better positioned to deal with the multiplicity of claims in the MDL.
Generally, companies opting for bankruptcy obtain an immediate reprieve from lawsuits. Aearo had argued in favor of extending said reprieve towards 3M as well. However, Judge Graham of the Florida Federal Court, held that 3M will not get bankruptcy protection because its subsidiary declared bankruptcy. Thereafter, the MDL judge, M. Casey Rodgers ordered 3M to participate in the new settlement mediation.
Therefore, to summarize, the lawsuit is being played out in 2 courts (concerning different questions of law) i.e., the court hearing the MDL (MDL Court, Judge Rodgers) and the bankruptcy court (Florida Court, Judge Graham).
Recent update
In an interesting turn of events, 3M has now (after around 3 years of litigation) claimed that its subsidiary Aearo is to be blamed solely for the damage caused by the Combat Arms Earplugs. As a response to this, the plaintiffs have pointed out that 3M had vehemently argued that it owns and controls Aearo while opposing a motion to treat 3M and Aearo as different entities (for deciding a per defendant damages cap).
Furthermore, this stance is in stark opposition to 3M's trial-long conduct of taking the lead in responding to court documents filed against all defendants.
The Florida Judge after critiquing this new defense has now asked 3M to justify it. On its part, 3M insisted that its strategy is unchanged and that it is committed to working towards resolving the matter.