Werner Attic Ladders: Models S2208 and S2210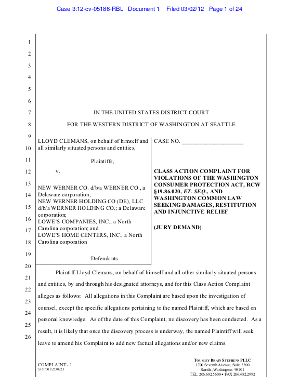 According to allegations in a recently filed class action complaint, certain Werner Attic Ladders may have dangerous defects. The attic ladders that are the subject of the class action are S2208 and S2210 pull-down attic ladders. According to the allegations in the complaint, these attic ladders are sold by Lowe's Home Centers.
According to the complaint, Lowe's sold approximately 600,000 of these allegedly defective ladders, nationwide, up until 2008.
Here is a quote from the recently filed complaint:
"Despite their knowledge of the substantial risks posed by the S2208 and S2210 attic ladders, Defendants Werner Co. and Werner Holding continued to manufacture these ladders, and amazingly, the Lowe's entities continued to purchase and sell them to the unsuspecting public. All the while, as consumer complaints concerning both product failure and personal injury continued to mount, Defendants Werner Co. and Werner Holding engaged in a campaign to conceal the risk that these ladders posed from the general public. Indeed, when their own employees made anonymous complaints to the Consumer Products Safety Commission concerning the safety of these specific ladders, Defendants Werner Co. and Werner Holding downplayed the significance of the risks they posed and mislead this federal agency as to their own legal responsibility for the ladders by falsely claiming that such liabilities had been discharged in Old Ladder's bankruptcy.
"Ultimately, in 2008, Defendants Werner Co and Werner Holding ceased the manufacture of the S2208 and S2210 ladders. By this time, however, approximately 600,000 of these defective ladders were sold nationwide, thousands of which were acquired by [. . .] consumers.
"Because of their inherent and dangerous defects, these ladders are substantially likely to fail before the end of their useful life. Further, these ladders are subject to failure in a sudden and dangerous manner in that the hinge will shear and break without warning while a person is on the ladder. The ladders are, therefore, valueless and have harmed and will continue to harm [. . .] consumers economically."
If you purchased a Werner Attic Ladder (model S2208 or S2210) from Lowe's Home Center, you are urged to contact the law firm of Audet & Partners, LLP. We are investigating the matter at this time, and are interested to speak with consumers who have purchased any Werner attic ladder.
Please call us toll-free, at 800.965.1461, and ask to speak to attorney Mariana Cole, or attorney Michael McShane. The call is free and confidential. Should you wish, you may also fill out the simple and confidential form on the right side of this page. Please act now, since your rights as a consumer may be affected by delay on this matter.
Important Notice
Persons seeking to preserve any potential legal claims should contact an attorney promptly, since all states have mandatory time periods in which lawsuits must be filed with the courts; otherwise, they may be forever barred.
About Our Firm
Audet & Partners represents individuals, governmental entities, small businesses and institutional shareholders in product liability, tort, negligence, consumer, construction defect, investment fraud, securities, insider trading, antitrust, environmental, whistle blower, aviation and employment cases. In recognition of their outstanding abilities and commitment to the legal profession over the years, the firm and its members have served as Court-appointed Plaintiffs' Counsel in dozens of federal and state cases throughout the United States.