Opt-Out Lawyers in High-Stakes Litigation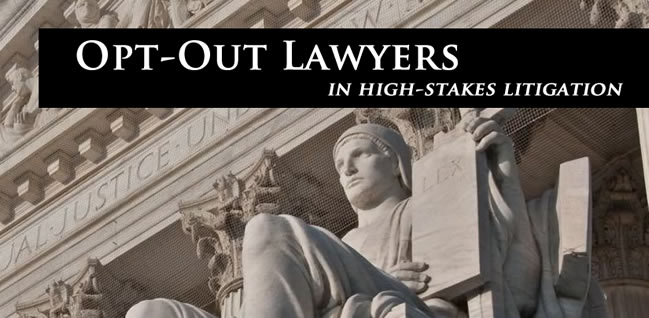 As federal and state court rulings continue to strengthen roadblocks to class action certification, increasing numbers of in-house counsel are being left to decide on aggressive outside counsel to pursue high-stakes plaintiff's litigation as individual plaintiffs.   Faced with mounting hurdles to class action certification, for example in the context of antitrust price-fixing lawsuits, many in-house attorneys travel the road of inertia and opt to retain counsel for their litigation that has typically been strongly aligned with defense of claims against the company.
Firms that have historically provided corporate defense services may simply lack the experience, insight, and orientation towards plaintiff's litigation to ensure success in this role.  Where antitrust defense representation may call for slow deliberation on a meticulous, plodding track, plaintiff's litigation often demands a more aggressive approach with an eye towards resolution sooner than later.
Recently, a couple of historically defense-oriented Big Law firms demonstrated how changing hats to plaintiff's litigation may imperil corporate interests.  Attorneys at Paul Weiss missed an opt-out deadline, causing their client, Sharp Electronics, to accept a $1.3 million share of a class action settlement.  It has been projected that by opting out of this class action, recovered damages could have eclipsed $100 million.
Other Big Law, historically defense-oriented firms including Alston & Bird and Jones Day have failed to meet opt-out deadlines in class action lawsuits, oversights that could potentially cost their clients hundreds of millions of dollars.
Audet & Partners, LLP has pursued plaintiff interests almost exclusively for 20 years.  Managing Partner William Audet has spearheaded plaintiff's litigation that has recovered hundreds of millions of dollars for his clients.  Besides being an aggressive litigator with keen insight into the nuances of plaintiff's litigation, Mr. Audet applies keen business acumen in strategically working towards optimal settlements for his clients.
If you are considering opting out of high-stakes litigation, we welcome the opportunity to provide a free analysis of your situation and provide an assessment as experienced, successful plaintiff's opt-out lawyers.  You can request a free consultation either by calling us at (800) 965-1461, or by completing and submitting our confidential inquiry form on the right side of this page.