Da Vinci Robotic Surgery Checklist Published for Surgeons
Medical checklists have been the subject of much discussion in recent years. One need only look to books such as "The Checklist Manifesto" by Dr. Atul Gawande or "Safe Patients, Smart Hospitals: How One Doctor's Checklist Can Help Us Change Health Care from the Inside Out" by Dr. Peter Provonost and Eric Vohr. These checklists have grown in importance in light of problems with medical devices such as the da Vinci surgical robot and its component parts.  In a paper published in the medical journal, Patient Safety in Surgery, four physicians suggested that healthcare providers implement and follow a surgical checklist to avoid or minimize complications during robotic surgery and to address "obstacles presented by lengthy robotic surgeries."*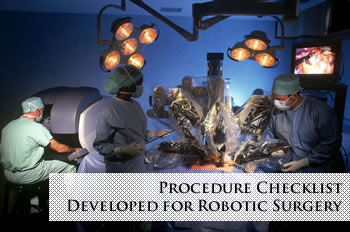 In their article, the authors have not only suggested that surgeons follow a checklist for robotic surgery, but they have gone further to create a model checklist for providers to adopt in their respective practices. The recommendations in the checklist range in complexity from the mundane instruction to turn on all of the lights in the operating room to checking "for the placement and function of pneumatic compression devices," which help with patients' blood circulation in their arms and legs during surgery.*
The robotic surgery checklist is broken into four primary areas: The first, "general patient considerations," contains reminders for the surgical team, among other things, to verify that the patient was in the proper position, that the patient's arms and legs were not mottled, and that the straps on the patient were adjusted to the appropriate tightness.* The second category, "surgeon considerations," contains reminders to determine whether the surgical technique might need to be changed or whether another surgeon may need to assist in the procedure.* In addition, there is a note reminding the team to evaluate whether members of the team require a break.* In "anesthesia considerations," the team is reminded to determine the amount of blood loss, to check for the need to draw blood, and the need to adjust the dosage of any of antibiotics.* Lastly, in "nursing considerations," the team is instructed to double-check that all of the equipment and instruments are fully functional.* Additionally, the nurses are reminded to update the hospital or surgery center administration as to the need for more nurses experienced in robotic surgery.* The hope is that these protocols will improve patient safety and satisfaction, especially in light of the dangerous nature of robotic surgery.
If you or someone you know has suffered an injury that may be related to the da Vinci surgical robot, please contact Audet & Partners, LLP by calling us toll free at 800.965.1461. Alternatively, please complete and submit our confidential inquiry form on the right side of this page.  Please act now, since the law may limit your right to recovery if you delay.
* The second "time-out": a surgical safety checklist for lengthy robotic surgeries, Patient Safety in Surgery 2013, 7:19 (June 3, 2013).